xCoAx is an international conference that promotes the discussion and discovery of synergies at the frontiers of digital art, in the form of a multidisciplinary questioning on aesthetics, computing, communication and the elusive X factor that connects them all. After previous editions in Milan, Madrid, Lisbon, Bergamo, Glasgow and Porto, the 2020 edition was meant to take place in Graz, with a conference and performances at MUMUTH – House of Music and Music Theatre, and an exhibition at the Forum Stadtpark, all under the auspices of IEM – Institute of Electronic Music and Acoustics, at the University of Music and Performing Arts Graz.
The global CoViD-19 emergency imposed a rapid rethinking of the nature and structure of xCoAx, which is now online, still comprised of papers, artworks and performances. For the first time, xCoAx is a totally open event where everyone can attend and join the discussion!
Proceedings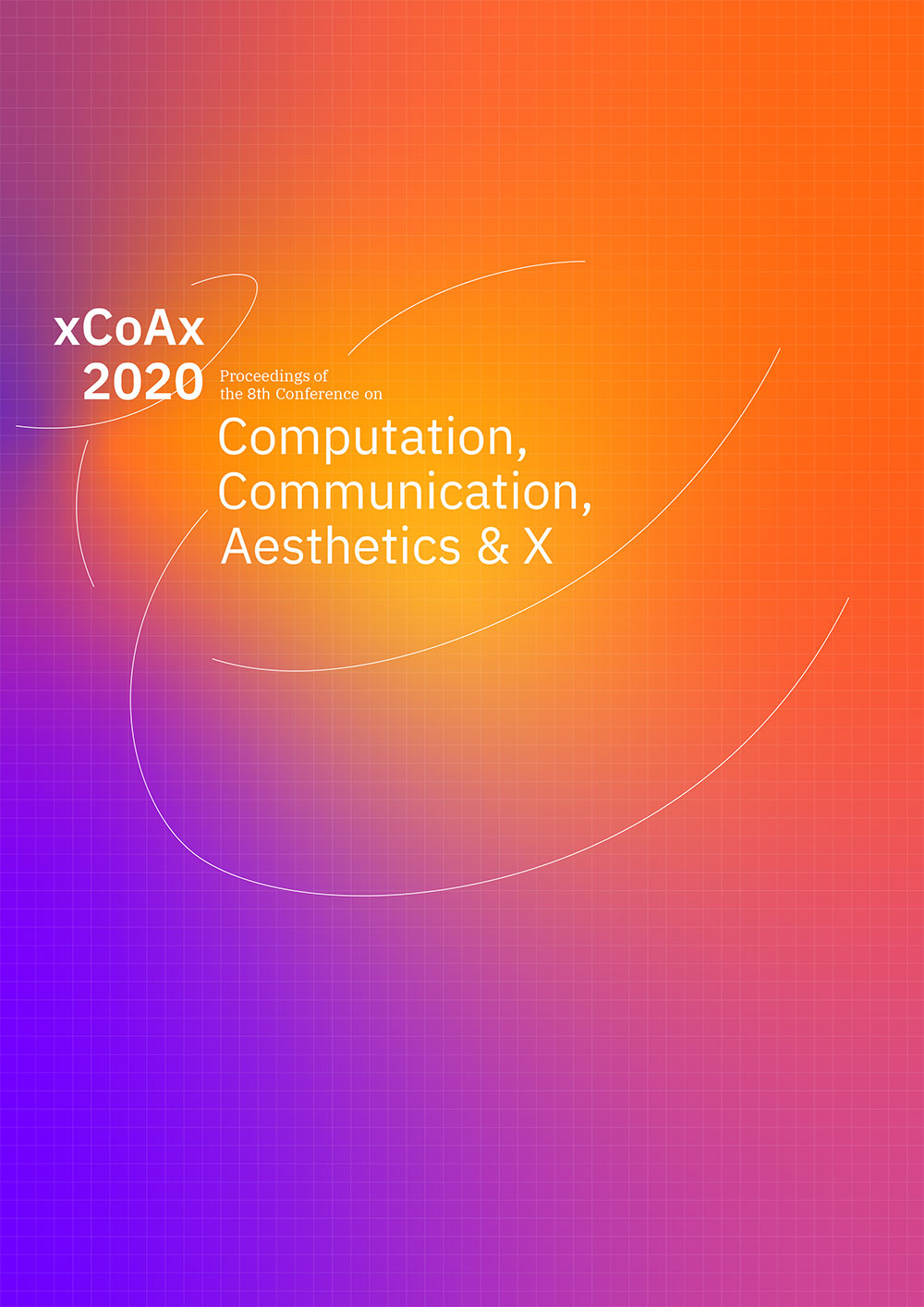 xCoAx 2020: Proceedings of the Eighth Conference on Computation, Communication, Aesthetics & X.
Edited by Mario Verdicchio, Miguel Carvalhais, Luísa Ribas & André Rangel.
478 pages.
ISBN: 978-989-746-266-5
Provides Ng, Eli Joteva, Ya nzi Current
Tivon Rice Environment Built for Absence (an Unofficial/Artificial Sequel to J.G. Ballard's "High Rise")
Nimrod Astarhan, Yanai Toister Spectral Choreography #2
Tonio Mundry Beyond the Canvas/Bliss
Amy Alexander What the Robot Saw
Andrés Villa Torres Convoluted Alterity
Ian Heisters Gestures #2 - #4
Marco Heleno, Miguel Carvalhais, Nuno Correia TransparentPerceptron: Visualizing the Perceptron's decision iterations
Christian Herren Coded Archetypes (New York, Bern, Beijng)
Christian Faubel Kauschlauch Modulations
Mathew Mosher Pythia Consulting: Asking Difficult Questions While on Hold
Alan Dunning Soundings
Pedro Ferreira On a Scroll Through the Cloud
André Rangel ComComComCom: Computation, Communication, Commerce, Community, a Common Com
Catarina Sampaio, Luísa Ribas, Pedro Ângelo Data Self-Portrait
Dragica Kahlina Hey!
Marta Flisykowska The In Rust We Trust Project: technological and cultural aspects of terrestrial experiments on a Martian clay simulant
Susie Fu Artist and Machine: An Iterative Art Performance
Performances
Jaume Darbra Fa, Yuri Wilmering, Nicholas Moroz Mirror of the Whole of Nature and the Image of Art: Breaths between moons
Christos Michalakos Icarus: A Game/Performance for the Augmented Drum-Kit
Arne Eigenfeldt tinySounds: for voice and musebot ensemble
Jung In Jung, Paul Blackham Hot Summer Afternoon: Towards the Embodiment of Musical Expression in Virtual Reality
Isak Han Playing The nUFO
Dani Iosafat a.k.a. Dani Joss Stream: synergy meeting vol. 2
Jules Rawlinson, Owen Green, Dave Murray-Rust Raw Green Rust: Improvisation (with FluCoMa and UniSSON)
Joaquín Jiménez-Sauma Polymer Dub: Urban soundscapes, evolution and cultural values
Daniel Mayer Matters 5
Alberto de Campo Polyharpye Reclaimed
Nicola Giannini Eyes Draw Circles of Light
Jia Liu Ring Study II/b: Live Performance with an Autonomous Pitch-Following Feedback System
Ștefan Damian Naufrage: a 32 channel electroacoustic composition
Ron Kuivila Sparkline (with serene velocity)
Luis Arandas Performative Metacreation: An Artist-Centred Exploration of Artificial Intelligence
Pierre Depaz The Aesthetic Values of Source Code
Pedro Costa "Some Things You Can Ask Me": about gender and artificial intelligence
Pedro Ferreira Post-digital Aesthetics in Contemporary Audiovisual Art
Provides Ng Preemptive Futures: A Study of A Circular Information Economy of Architecture
Jim Reeve-Baker Audio Data Compression Artefacts as Creative Material
Catarina Sampaio The Self as Data: Visualizing Identity Through Data Portraits
Chairs: Marko Ciciliani & Philip Galanter
Scientific Committee
Adriana Sá ESAD/CICANT [+]
Alessandro Ludovico Winchester School of Art, University of Southampton / Neural
Alice Cannava Technische Universität Berlin
Alice Eldridge University of Sussex
Andreas Broeckmann Leuphana Arts Program, Lüneburg
Andreas Zingerle Department of Linguistic, Literary and Aesthetic Studies, University of Bergen
Anne Balsamo University of Texas at Dallas
Anneké Pettican Department Lead Art & Communication, University of Huddersfield
Astrid Drechsler Experimental Radio Group, Bauhaus-Universität Weimar
Aura Satz Royal College of Art
Carlos Guedes New York University Abu Dhabi [+]
Chara Lewis Manchester School of Art, Manchester Metropolitan University
Christian Faubel Academy of Media Arts Cologne
Cristina Sá CITAR / Portuguese Catholic University, School of Arts
Dale MacDonald University of Texas at Dallas
Daniel Irrgang Weizenbaum Institute / Berlin University of the Arts
Daniel Schorno STEIM
Darko VelazquezBauhaus Form + Function Lab, Bauhaus-Universität Weimar
David Pirrò Institute of Electronic Music and Acoustics, University of Music and Performing Arts, Graz
Filipe Pais Ensadlab, Ensad, Paris
Francisco Cardoso Lima Independent Artist, Aveiro
Frieder Nake University of Bremen & Hochschule für Künste Bremen
Gerhard Nierhaus University of Music and Performing Arts Graz
Hanns Holger Rutz Institute of Electronic Music and Acoustics, University of Music and Performing Arts, Graz [+]
Heitor Alvelos ID+ / Faculty of Fine Arts, University of Porto
João Cordeiro CITAR / University of West London
Jason Reizner Bauhaus-Universität Weimar
Johannes Zmölnig University of Music and Performing Arts Graz
Jon He Massey University
Jon McCormack Monash University
Kristin Mojsiewicz Edinburgh College of Art, University of Edinburgh
Laura Beloff School of Arts, Design and Architecture, Aalto University
Linda Kronman University of Bergen
Magdalena Tyzlik-Carver Department of Digital Design at Aarhus University
Manuela Naveau Ars Electronica
Marko CicilianiInstitute of Electronic Music and Acoustics at the University of Music and Performing Arts Graz
Mario Verdicchio Università degli Studi di Bergamo
Martin Kaltenbrunner Kunstuniversität Linz
Martin Rumori sonible GmbH
Max Hampshire Independent Researcher & Artist
Michael MarkertInterface Design Group, Bauhaus-Universität Weimar
Mitchell Whitelaw College of Arts and Social Sciences, Australian National University
Monty Adkins University of Huddersfield
Nathan Wolek Stetson University
Nuno N. Correia University of Greenwich
Patrícia João Reis University of Applied Arts Vienna, Austria, Department of Digital Arts [+]
Paulo Ferreira Lopes IMG - University of Applied Sciences Mainz
Pedro Cardoso INESC TEC / Faculty of Fine Arts, University of Porto
Penousal Machado University of Coimbra
Philip Galanter Texas A&M University
Ricardo Melo CEOS.PP / Polytechnic of Porto. Porto Accounting and Business School
Robert Höldrich University of Music and Performing Arts Graz
Rodrigo Hernández-Ramírez UNIDCOM / Instituto de Arte, Design e Empresa (IADE) [+]
Rosemary Lee IT-University Copenhagen
Rui Torres Electronic Literature Organization / Faculty of Human and Social Sciences, University Fernando Pessoa, Porto
Samuel Van Ransbeeck UCP-CITAR
Sophie-Carolin Wagner Austrian National Library / RIAT
Shusha Niederberguer House of Electronic Arts Basel
Søren Pold School of Communication and Culture, Aarhus University
Tim Boykett Time's Up
Thor Magnusson University of Sussex / ixi audio
Valentina Nisi University of Madeira
Veronika Mayer Freelance Artist and Lecturer
Visda GoudarziSchool of Media Arts at Columbia College Chicago
Winnie Soon Department of Digital Design at Aarhus University
About Us
Organising Committee
Local Organising Committee
Past Organisers
xCoAx Proceedings
Proceedings Editorial Board